Office Location: Chevy Chase Community Center, Room 215: 5601 Connecticut Ave. NW, Washington, DC 20015
Mailing Address: P.O. Box 6252 Northwest Station, Washington, DC 20015

---
Link to District of Columbia Home Page
Direct Link To DC Govt. Service Request Form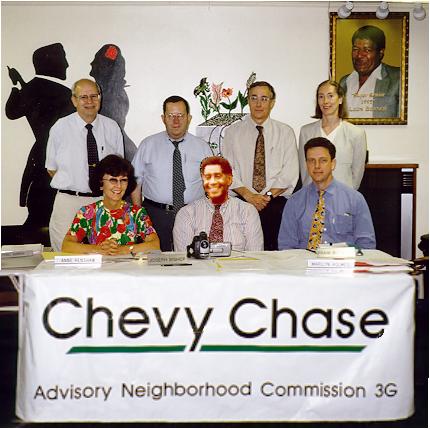 ANC 3G Commissioners as of January 2000
3G01 Joseph Bishop 3210 Chestnut St., NW
E-Mail jbiissh@aol.com
3G02 Frank Buchholz 5877 Nebraska Ave., NW
3G03 Anne M. Renshaw 2910 Military Road, NW
Chair
3G04 Allen E. Beach 3342 Stuyvesant Pl., NW
E-Mail abeach@pipeline.com
Secretary
3G05 Robert Myers 3605 Morrison St., NW
E-Mail rmyers1@erols.com
Treasurer
My Web Page
3G06 Jeffrey Norman 5410 Conn. Ave., NW
Vice-Chair #717
3G07 Marilyn Holmes 3700 Military Road, NW
E-Mail m.holmes@alumni.duke.edu
Zip code for all addresses is 20015.
Sandra Wimberly
Office Director ANC 3G
Office telephone number is 363-5803.
Office fax number is 686-4366.
Office E-Mail is uppernwdc@juno.com
ANC 3G meetings are held on the second and fourth Monday of every month at the Chevy Chase Community Center, 5601 Connecticut Ave. at 7:30 PM.
Meetings for March, April & May are as followed: March 13 & 27, April 10 & 24 , May 8 & 22
E-mail the office if you'd like to receive by e-mail the latest news and meeting agendas. We will put you on our neighbors list. Hope to hear from you.
Important Links